2020 is the NC Botanical Garden's Year of the Wildflower, and while flowers may seem like the least wild part of this year, we were glad to be joined by so many in the community to share the dirt and gather a fistful of Wild Ideas for Wildflowers on Oct. 28! This was our first virtual Wild Ideas, and we can't thank enough all the people who helped make it a success!
At Wild Ideas for Wildflowers, our speakers answered questions like what makes a flower wild? Which ones thrive in the Triangle? What kinds of landscapes can we create that have both cultural and ecological relevance? Why should we care about native trees? You can watch the full presentation to find out answers to those questions and more from our four speakers, Alan Weakley, Basil Camu, Matt Rutledge, and Elena Peterman. We are so grateful to them for their time and expertise and are also thankful to Anupama Joshi for emceeing the event.
We loved sharing this special evening with more than 250 people from the Triangle, and even a few from other states! Thank you for believing in the power of plants!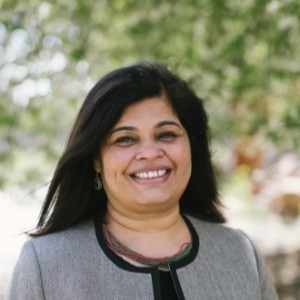 Anupama Joshi (Emcee), Executive Director of Blue Sky Funders Forum
Anupama Joshi is an accomplished leader in the non-profit and social sectors in the United States and abroad. She previously co-founded and was executive director of the National Farm to School Network, building a movement to incorporate local procurement, gardens and food and farm education in schools and early care sites across the United States. She is a firm believer in the power of networks and collaboration to enable lasting change, and has embodied that throughout her career. She is co-author of Food Justice (MIT Press, 2010), developed "Evaluation for Transformation" – a pioneering cross-sectoral framework for farm to school research and evaluation, and regularly speaks at national and international events. Anupama currently serves on the board of directors for the Farmers Market Coalition and provides mentorship to emerging leaders through the Community Food Systems Mentorship Program. She is a mom, loves to travel, and cook, and currently lives in Cary, North Carolina.
Alan Weakley is plant systematist, plant community ecologist, biogeographer, and conservation biologist focused on the species and systems of the Southeastern United States. He has been the director of the UNC Herbarium, a department of the North Carolina Botanical Garden since 2002, and he is the co-author of Wildflowers of the Atlantic Southeast, a comprehensive wildflower guide with descriptions and photos of more than 1,200 species. He has a Ph.D. from Duke University and a B.A. from UNC-Chapel Hill. Alan has also worked as a botanist and ecologist for the NC Natural Heritage Program, The Nature Conservancy, and NatureServe. At Wild Ideas for Wildflowers, he will be talking about engaging with the natural world around you, learning about the diversity of plants and habitats, and making citizen science observations.
Basil Camu, Chief Vision Officer at Leaf & Limb
Basil Camu loves trees. And soil, wildflowers, insects, bats, fungi, ecosystems – basically all of Earth. He is fully committed to caring for this beautiful planet. He is a Treecologist, ISA Board Certified Master Arborist, and co-owner of Leaf & Limb by day. Then he is a gardening/planting/ecosystem restoration addict by weekend. One of Basil's favorite pastimes is hanging out with his wife and sons (at arboretums, gardens, forests, and nature preserves of course!). He also enjoys staying physically active with Brazilian Jiu Jitsu, powerlifting, CrossFit, hiking, and long-distance running. After family, plants, and physical exertion, Basil's next favorite things in life are reading, garlic, traveling the world, blazing hot peppers, pickles, and anything from Lucette Grace in downtown Raleigh, in approximately that order.
Matt Rutledge, TLC's Associate Director of Stewardship
Matt Rutledge joined TLC in 2013 and currently serves as the Associate Director of Stewardship. Prior to TLC, he earned master's degrees in Environmental Management and Forestry Management from Duke University and a bachelor's degree in history from the College of William and Mary. Matt believes strongly in local conservation and especially enjoys TLC's work in habitat restoration. He lives in Chapel Hill and enjoys hiking, exploring the outdoors, and spending time with family. Matt will be discussing the importance of native plants and pollinator habitat in healthy ecological systems and landscapes.
Elena Peterman, TLC AmeriCorps Member
Elena Peterman is an AmeriCorps member with the Triangle Land Conservancy, focusing her efforts on community engagement at the Bailey and Sarah Williamson Preserve in Eastern Wake County. Prior to joining TLC, Elena did research on climate policy, studied community forestry in southern Mexico, and organized around environmental justice in Chicago. She holds a bachelor's degree in Sociocultural Anthropology from the University of Chicago. Elena will be presenting on pollinator gardens, highlighting their importance in protecting and providing habitats for essential pollinators, and giving a tour of TLC's very own pollinator garden at the Bailey and Sarah Williamson Preserve.
Thank you to our sponsors!