TLC is governed by a volunteer Board of Directors that sets policy directions and budget priorities for the organization. Board members are nominated by TLC's Board Nominating Committee and elected by the board to serve up to two three-year terms.
Officers are elected from among the Board of Directors and include a Chair, Vice-Chair, Treasurer, and Secretary. Read our bylaws here.
The TLC Board also has several standing and ad-hoc committees: Conservation Strategies, Development, Executive, Finance & Investment, Human Resources & Governance, and Nominating. The Board often invites experts from the community to serve on appropriate committees. TLC also has a Stewardship Advisory Council.
Current Board Members
Marlena Byrne, Chair
Marlena Byrne is a Deputy Chief Resilience Officer with the North Carolina Office of Recovery and Resiliency. Marlena advises on long-term disaster recovery and coordinates state, federal, and local agencies, as well as nongovernmental partners, in helping North Carolina mitigate and prepare for the effects of climate change. Marlena is an environmental and land-use lawyer. Marlena earned her law degree from the University of California, Berkeley School of Law, and her Bachelor of Arts in English from Stanford University. Before moving to North Carolina, Marlena was a Deputy City Attorney for the City and County of San Francisco for over ten years, advising city officials and departments on all aspects of urban planning, land use, and environmental law. She lives with her husband, three stepsons, and a rescue mutt in Durham.
Bert Fisher, Vice Chair
Bert Fisher's professional career included over 35 years in nonprofit management. His last role was as President & C.E.O. of Community Partnerships, Inc., a private, nonprofit agency providing direct services across five counties in eastern North Carolina to individuals with intellectual and/or developmental disabilities, mental health or substance abuse issues, and economically disadvantaged youth. Before his role at Community Partnerships, Bert served as Vice President of Development for the Food Bank of Central and Eastern North Carolina. A graduate of Duke University, Bert also worked for over 20 years in various roles in Alumni Affairs and Development at Duke. His strengths include strategic planning, nonprofit/organizational management, personnel development, fundraising, and communications. He understands the critical need for sound fiscal responsibility and works hard to ensure that all agencies and organizations with which he is involved manage their finances with integrity, transparency, and accountability.
A native of North Carolina, Bert grew up with a strong interest in and great appreciation for nature, wildlife, and the outdoors. He and his wife, Leto Copeley, live in a house in the middle of the woods outside of Hillsborough, North Carolina.
Anupama Joshi, Secretary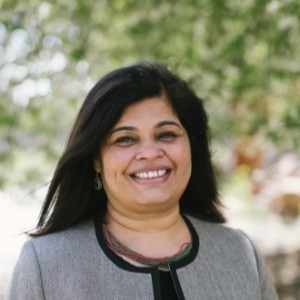 Anupama is an accomplished nonprofit leader driving evidence-based policies, programs, and funding in the nutrition, public health, agriculture, and environmental sectors. As Vice President for Programs at the Center for Science in the Public Interest, Anupama leads national, state, and local policy advocacy; legislative campaigns; and regulatory affairs to support equitable access to healthy, affordable, and sustainable food. Previously, Anupama was executive director of the Blue Sky Funders Forum (a working group of the Environmental Grantmakers Association). Anupama co-founded and served as executive director of the National Farm to School Network for over a decade, advocating for policies and funding to support local food procurement, school gardens, and experiential education in schools and early care sites. She holds an MS in nutrition from M.S. University in Baroda, India, and spent the first part of her career on related projects in India, Thailand, and Malaysia. Anupama serves on the board of directors of the Farmers Market Coalition and the Food Recovery Network and is an advisor to the Outdoor Alliance for Kids. She is a co-author of Food Justice (MIT Press, 2010). Anupama is a mom who enjoys exploring the world, cooking for friends and family, and lives in Cary, North Carolina.
Rebecca Balter, Treasurer
Rebecca Balter grew up in Raleigh, North Carolina, the ancestral lands of the Tuscarora people. Rebecca's interest and commitment to conservation and philanthropy were fostered through many generations of a family dedicated to enjoying and preserving our environment. She believes strongly in environmental justice and is significantly invested in the role that a land trust can play in amplifying the conversations about who has access to nature while acknowledging the complex history of land use and ownership in this country. She earned her bachelor's degree in biology from Columbia University and then received a Ph.D. in neurobiology from the University of North Carolina at Chapel Hill. Although trained as a scientist, she left the lab to support social justice movements through donor organizing. For the last decade, she has been an active member of Resource Generation. This group organizes young people with wealth and class privilege in the United States, working towards equitable wealth, land, and power. As a donor organizer, she was a founding member of the Funding Queerly giving circle and helped launch FrontPorch. This organization brings together young, progressive political funders to move money to 501-c4 nonprofits, building political power in marginalized communities in North Carolina. She also serves on the Board of Directors of the Triangle Community Foundation.
Will Morgan, ex officio
Will Morgan is a partner at Manning, Fulton, & Skinner, where he is the co-chair of the firm's Government Relations practice group. He has experience representing clients at the federal, state, and local level, but his current practice is primarily focused on representing clients at the North Carolina General Assembly and before state administrative agencies. Will represents many clients, including national trade associations, Fortune 500 companies, small businesses, and nonprofits. Before joining Manning, Fulton, & Skinner, Will served as the Director of Government Relations for the North Carolina chapter of The Nature Conservancy, and he is proud to continue to advocate for conservation groups through his representation of Land for Tomorrow, a state-wide coalition of the state's leading conservation groups. He earned a B.A. in Political Science and Environmental Studies at the University of North Carolina at Chapel Hill and his J.D. from the Wake Forest University School of Law. Will and his wife Janie live in Raleigh with their son, daughter, and yellow lab.
Toni Wyche Jones
Toni grew up in rural eastern North Carolina, where she developed a love of the outdoors and a desire to protect it at an early age. Toni took a brief hiatus to pursue entrepreneurship after serving as an Environmental Engineer with the Environmental Protection Agency in 2009. She served as an Environmental Engineer with the N.C. Department of Environmental Quality. "With the threat of rising sea levels, animal habitats disappearing, and changes in weather patterns, I want to be a part of protecting public health and natural resources. I am excited about working alongside individuals with common interests and passions." Toni holds a master's degree in Biological and Agricultural Engineering from North Carolina State University and a B.S. in Agricultural and Biosystems Engineering from North Carolina Agricultural and Technical State University.
Jenny Bo
Jenny Bo is a Senior Account Executive at PrecisionLender, where she works with large financial institutions to transform the commercial banking experience, strengthen their client relationships, and build stronger communities. Since graduating from Duke with a degree in Economics, she has ten-plus years of client development and sales experience in banking and technology startups.
She grew up in Cary, North Carolina, and has a long-abiding love for the Triangle and its natural resources. Jenny has also served on the North Carolina School of Science and Math Alumni Association Board of Directors. Jenny and her spouse, Chris, live in Apex and enjoy hiking, rock climbing, cooking, and traveling.
Patrick Mateer
Patrick believes that everyone deserves access to healthy, locally-grown food. As an undergraduate at UNC-CH, he founded Seal the Seasons in 2014 to upend the status quo of globalized frozen food supply chains and pioneer a new locally grown, locally frozen, locally sold mod l. Through partnerships with over 50 local family farms, ten frozen facilities, and $7.5MM in equity capital raised, Seal the Seasons now serves over 4,000 US grocery stores and sells millions of pounds of locally grown food annualy. As CEO, Patrick brings expertise in fundraising, sales, and storytelling. In 2018, Patrick was recognized in the Forbes 30 under 30 awards and the Specialty Food Association Leadership Award for Vision 2019. He was inducted into the Order of the Golden Fleece, UNC's top honorary society, in 2014. Outside work, Patrick serves as Treasurer on the Board for The Refugee Community Partnership, a social justice organization serving refugees in Chapel Hill and Durham. In his free time, Patrick enjoys hiking, live music, activism, and spending time with his cat, Toby.
Dr. Nicolette L. Cagle
Dr. Nicolette L. Cagle is Faculty in Environmental Science and Policy in the Nicholas School of the Environment at Duke University. She also serves as the Director of Undergraduate Diversity, Equity, and Inclusion and the Director of the Communications Studio in the Nicholas School. Dr. Cagle has a background in ecology, natural history, environmental education, and environmental communication. She has experience in diversity, equity, and inclusion, especially in environmental fields. She has also served on the board of the Schoolhouse of Wonder and the Forest History Society. She lives in Durham with her husband, son, and three dogs.
Connor Jarvis
Connor Jarvis is the Environmental Manager at the Pfizer Sanford facility. He serves as the site environmental compliance lead and the global biotech chair of Pfizer's waste minimization team. He has professional experience in environmental regulations and permitting, spanning the Clean Water Act, Clean Air Act, RCRA, stormwater, and spill response. Connor served a term on the Lee County Joint Environmental Affairs Board, which advises the local government boards on policy, regulatory changes, and emerging issues, and conducts studies on environmental topics. He is a volunteer program coordinator for Adopt a Highway and facilitates Pfizer Sanford's "Wildlife and Industry Together" (WAIT) N.C. Wildlife Federation program, in which a portion of the facility's land is set aside to provide habitat for wildlife and foster biodiversity. He earned a B.S. in Environmental Science and a B.A. in Biology at the University of North Carolina at Chapel Hill and holds an M.S. in Sustainable Management at the University of Wisconsin-Stout. He enjoys biking, reading, and cooking and is an amateur beekeeper in his free time. Connor and his wife, Sarah Evelyn, live in Pittsboro.
Jack Blackmer
Jack has had a lifelong interest in nature and the environment, exploring woodlands, streams, and ponds while growing up in Michigan. Jack's last position before retirement was Senior Manager, Quality, Environment, Health & Safety at Novozymes North America – Franklinton, NC. His responsibilities included environmental compliance assurance and conducting E.H.S. due diligence for mergers and acquisitions in the U.S. and Canada. "I am excited for the opportunity to help shape T.L.C.'s policies and procedures to continue our focus on the four public benefits of conservation as our main mission. I feel especially passionate about conserving and protecting important natural areas, and I appreciate working with others on the Board and T.L.C. staff that share that passion." Jack holds a B.S. in Chemical Engineering from Michigan State University.
Cindy Pacchiana
Cindy is a mom to five teenagers and serves as a court-appointed advocate for abused and neglected children through the Guardian ad Litem program. Cindy is passionate about children and education and feels that connecting kids to nature is critical in the face of the virtual worlds they live in. Cindy is a firm believer in the value of land conservation and the importance of spending time outdoors for mental and physical health. She holds a Master's degree in Statistics from the University of Cincinnati and previously worked in clinical trials research. Cindy has also served on the Durham Crisis Response Center board, was president of the parent organization at Duke School, helped raise funds and build the Turnip Patch Park in Hillsborough, and served on the Development Committee at Durham Academy. In addition to T.L.C., Cindy and her husband, Gregg, are longtime supporters of the Hillsborough Arts Council and the Fresh Air Fund in N.Y.C., a program that supports accessible, outdoor summer adventures for children from low-income communities. They also engage in the community by owning local businesses and properties in Orange and Durham counties. Cindy is an avid trail runner and enjoys biking, swimming, and climbing mountains.
JaLisha Richmond
JaLisha is Thread Capital's Director of Lending. She leads Thread Capital's loan origination, coaching, connections, and customer service efforts, with the goal of executing Thread Capital's mission of strengthening entrepreneurship and expanding access to capital for small businesses in North Carolina. Before joining the Thread, JaLisha worked as a program associate for the NC Rural Center and was a dedicated AmeriCorps member, spending time working with various nonprofits in her native community.
JaLisha is a Durham native and a graduate of Emory University with a bachelor's in chemistry and a minor in global health, culture, and society. She enjoys spending unclaimed time traveling, pretending to exercise on social media, and binge-watching TV with Garrett and two dogs, Jim Bean, and Dacarius.
Lysandra Weber
Lysandra Weber is the Marketing lead at Keel Labs, a biomaterials company in Morrisville, NC. She is also the owner and designer of geekchicfashion, a modern + stylish women's clothing company handmade in NC. Lysandra holds an MBA from UNC Kenan-Flagler Business School and has previously served on the boards of The Conservation Trust for NC and the North Carolina Botanical Garden.
Sean L Wilson
Sean is the Chief Executive Optimist of Durham's Fullsteam Brewery. He founded and led Pop The Cap and Permit Beer, two beer lobbying organizations that have opened up economic markets to North Carolina's craft beer industry. Sean holds an M.B.A. and Master of Public Policy from Duke University. He is a four-time James Beard Foundation semi-finalist in the Outstanding Wine, Beer, or Spirits Professional category.
Jackie Leach Pierce
Jackie Leach Pierce is a Triangle area native. She grew up in southern Wake County and therefore considers the communities of Apex, Fuquay-Varina, Garner, and Holly Springs all to be "home" in some regard. Jackie grew up next door to her paternal grandparents' small family farm, where she now lives. She has fond memories of her formative years when she witnessed gardens and tobacco growing in her community. Those memories are what fuel her interest and desire to maintain the legacy of land ownership among African American families.   
Jackie holds a bachelor's degree in journalism from UNC Chapel Hill and a Master of Studies in Law from the Wake Forest University School of Law. She currently serves as Major Gifts Officer for The Motley Fool Foundation.  She is an avid reader who enjoys spending time with her family and friends, including her adult son and grandson. 
Jimmy Randolph
Jimmy Randolph was born and raised in a small agricultural community in the rural heart of the North Carolina Sandhills, and his passion for conservation is deeply rooted in his experiences and relationships with the land and the people and the natural environment of that region.
He earned a Bachelor of Arts in Political Science from UNC-Chapel Hill and held a variety of leadership roles in not-for-profit enterprises, including the Sanford Area Chamber of Commerce and the NC Poultry Federation, before operating and eventually owning a local payroll processing company for more than a decade. After the sale of his business, he returned to a non-profit management role with the Sanford Area Growth Alliance (SAGA), where he is privileged to lead a diverse and talented economic development team and serve a membership of more than 500 area businesses and community stakeholders. During Jimmy's time at SAGA, major investment and job creation announcements from global leaders in advanced manufacturing like Pfizer, Bharat Forge Aluminum USA, Astellas Gene Therapies and Caterpillar have made Sanford and Lee County an even more attractive place for talented young professionals to live, work and raise their families. In order to sustain this positive growth, Jimmy is actively engaged with other business and community stakeholders around how best to conserve and enhance the natural and cultural resources that are intrinsic to the quality and livability of this place he has always called home. Jimmy shares his passion for nature and the outdoors with his wife, Julie, a retired public school science teacher, and their two adult sons, Jay and Hunter, and he enjoys growing and sharing his knowledge of NC's biodiversity through his nature photography and guided hikes in the natural areas of the Piedmont and Sandhills.