It's the Year of the Trail in North Carolina, and to celebrate we've gathered some of our staff's favorite trails across TLC's public nature preserves!
Since 1983, TLC has opened and now manages over 55 miles of trails in the Triangle where we welcome thousands of visitors each year. Located across the region, TLC preserves are open for you to explore for free year-round, from dawn to dusk – though be sure to check our website or visit Triangle MTB for any weather-related trail closures at Williamson and Brumley South.
Whether you're walking with a friend, bird watching, biking, jogging, with your leashed pup, or exploring on your own, there's something for everyone to enjoy outside. For more information about each preserve, click the name at the top of each section to help plan your next trip.
Happy hiking!
Table of Contents
---
548 South Rocky River Road, Sanford, NC 27330
TLC's first public preserve is special for many reasons, particularly the unique variety of habitats, plants, and wildlife that call it home. The presence of north-facing bluffs and the confluence of the bordering Deep and Rocky Rivers has preserved a cooler microclimate left over from the last ice age. Here you'll walk amongst five types of North Carolina pines, gorgeous wildflowers, and perhaps glimpse charismatic wildlife including pileated woodpeckers, beavers, and salamanders.
Temperatures here can be as much as 10 degrees cooler than in nearby Pittsboro, making it a great summer hiking destination!
Staff Pick – River Trail (1.1 miles)
"As a dedicated plant nerd, I find new plants to ooh and ahh over every time I walk this trail. The topography makes for really cool variation as you descend to the river, and there is something about the section next to the Rocky River that soothes my soul – especially in the fall!"

– Laura Warman, Grants Manager
Hot tip! The trails at White Pines are very interconnected, and you can access the River Trail at several points along the Schoolkids, White Pines, and Deep Bluffs Trails – giving you a fun opportunity to mix and match along the way.
4409 Mial Plantation Rd, Raleigh NC 27610 (Parking Lot)
6090 Mial Plantation Rd, Raleigh NC 27610 (Neuse River Greenway access)
Only minutes from bustling Raleigh, Williamson Preserve is an expansive natural oasis amid the farmland and forests of Wake and Johnston Counties. The 16.6 miles of multiuse trails here allow for a variety of ways to experience this preserve, and it is a favorite destination for many local mountain bikers. Along with beautiful trails, ponds, and forests, Williamson also functions as farmland for several new and beginning farmers, demonstrating a unique balance of recreation and regenerative farming in a historic agricultural community.
Staff Pick – Bootlegger's Loop (1 mile)
"This is a peaceful, lightly trafficked hiking-only trail at the southern end of Williamson. It weaves through beautiful mature hardwood bottomlands and young upland mixed pine/hardwood stands. While it is only accessible from the Neuse River Greenway, it is always open even if the main trails of the Preserve are closed!"

– Patrick Boleman, Land Stewardship Manager (East)
Fun find! Bootlegger's Loop gets its name from an old moonshine still site that can be found along this trail.
2713 Mt. Sinai Rd, Chapel Hill, NC 27515 (Main Entrance)
6001 Turkey Farm Rd, Chapel Hill, NC 27514 (Secondary Entrance)
Minutes from downtown Chapel Hill, Johnston Mill is a forest gem along New Hope Creek in Orange County. As you meander along the preserve's 3.5 miles of trails, you'll discover gorgeous trees, mountain-like creek sections, and remnants of the land's past including ruins of old gristmills. This peaceful space is perfect for early morning strolls, after work meditations, and everything in between!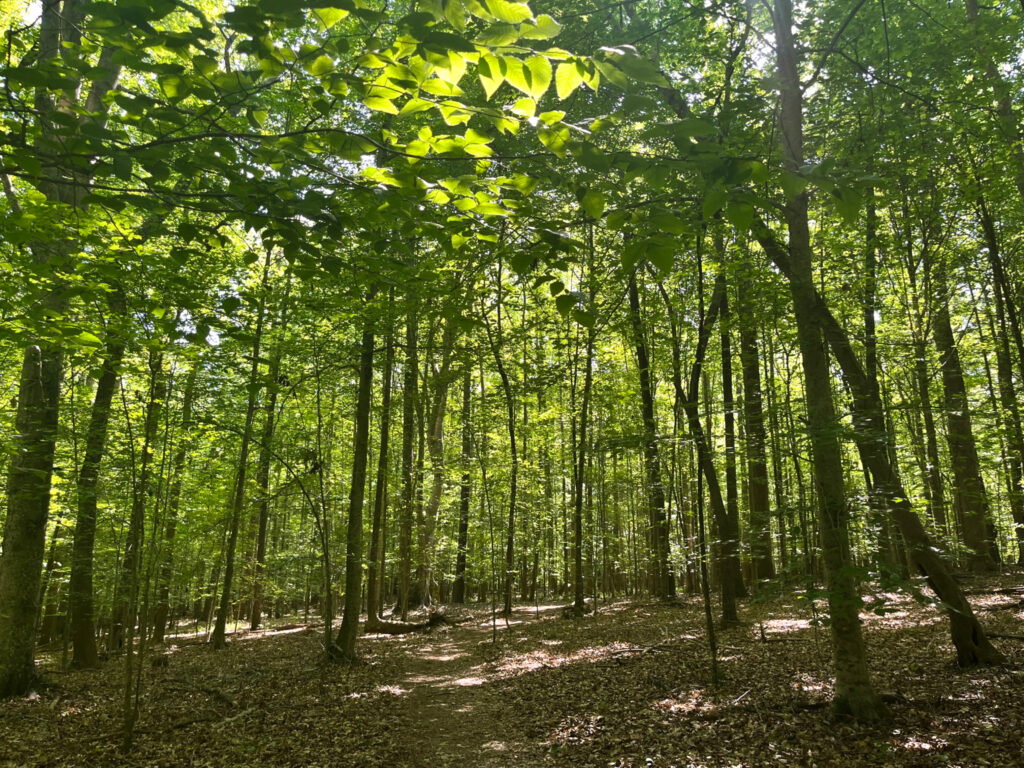 Staff Pick – Aphid Alley (0.7 mile)
"One of the first outings I went on as a new staff person in 2018 was with Matt Rutledge, TLC's Associate Director of Stewardship. One of the special things about Aphid Alley is the dancing aphids on the trees. Matt showed me that when you walk near them or blow softly towards them, they dance! They're so cute and it makes me smile each time. It's one of my favorite things to point out when walking on the trail with people who are visiting for the first time. Even if you don't see them on each outing, the trail is always worth a visit because of the peace and serenity you feel when walking."

– Casey Therrien, Associate Director of Philanthropy
3620 Old State Hwy 10, Chapel Hill, NC 27514 (Brumley North)
3055 New Hope Church Rd, Chapel Hill, NC 27514 or 3801 University Station Rd, Chapel Hill, NC 27514 (Brumley South)
There's so much to see and do at Brumley! The Preserve's over 17 miles of trails traverse rich mixtures of forests, streams, wetlands, ponds, and ruins of several homes and structures. There are 2 parts to Brumley – Brumley South, where visitors can both bike and walk the trails and Brumley North with walking only trails. Special sights include the Healing Labyrinth at Brumley North and the Lava Rocks at Brumley South!
Staff Pick for Brumley North – Dairy Farm Trail (0.9 miles)
"After you cross the big bridge, you get to the birdiest part of Brumley North. The trail along the east side of the pond is a magnet for birds. As you continue, you encounter the nesting spot for the Kentucky Warbler and the site where we most frequently encounter minks on the property."

– Bo Howes, Director of Land Protection and Stewardship (West)
For Brumley South – Buckeye Loop (2.1 miles)
"I learned to mountain bike at Brumley South, so I have a soft spot for it and the cycling confidence I've gained there. When I ride there, I generally like to cover all the mountain biking trails for their variety, but I tend to have the most fun on Buckeye Loop."

– Katie Seiz, Annual Fund Manager
7360 Jock Rd, Bahama, NC 27503
Horton Grove is TLC's largest public preserve with 708 acres – about the size of Central Park in New York City! Just outside of Durham, you'll find 8 miles of hiking trails that wind through mature forests and native grasslands providing habitat for a variety of birds, pollinators, and other wildlife. Horton Grove also holds important history, as the preserve is located on what was once one of the largest plantations in North Carolina. This is a unique and must-visit place to both explore, reflect, learn, and heal in nature.
Staff Pick – Sowell Trail (0.9 mile)
"Horton Grove is my favorite preserve overall, but one of my favorite trails is the Sowell Trail. It is an easy mile, out and back, through gorgeous woods and ends around a secluded pond. This trail is also the closest trail to the Historic Stagville structures so that you can learn about the land's history as well as reflect on the trail while connecting with nature."

– Kayla Ebert, Education & Outreach Associate
Did you know? Each of Horton Grove's trails are named in honor of descendants of local Black families that endured slavery at Stagville. You can learn about the families on trailhead kiosks and on our website here.
7800 Holly Springs Rd, Raleigh, NC 27606
Swift Creek Bluffs is a small, but powerful urban escape in the heart of Cary. Here you'll find yourself immersed in the primitive forests of North Carolina with towering beech trees and alpine-like bluffs. Swift Creek Bluffs is a haven for diverse flora and fauna. The preserve's shaded slopes support flowers more at home in the Appalachians and its vernal (springtime) pools offer ideal breeding grounds for spring peepers and upland chorus frogs. Despite being surrounded by housing developments and busy Holly Springs Road, you'll be amazed by the tranquil natural setting as you venture through the preserve.
Staff Pick – Beech Bluffs Loop (0.65 mile)
"Beech Bluffs Loop is my favorite trail for a few reasons. Aside from the awesome rare plants and beautiful spring ephemerals, the short loop is very family friendly and my 2- and 5-year-old love the preserve. The Stairway to Heaven is a good climb and gives you a feel of accomplishment when you reach the top. It's also a sweet view looking down at the creek."

– Umar Muhammad, Land Stewardship Associate (East)
Hot tip! During springtime, you'll find an abundance of gorgeous wildflowers along this trail and in the preserve, including the unique Jack-in-the-Pulpits. "To me, their flowers are magical and unlike most other spring wildflowers," says TLC's Director of Advancement Christine Wilson.
9038 Flower Hill Rd, Middlesex, NC 27557
Finally, we have the gorgeous Flower Hill! There's only one trail, but you will be transported to new heights and landscapes along the way. Nestled in Johnston County, the preserve was once coined a "freak of nature" by North Carolina naturalist B. W. Wells in the 1930s, as its mountain-like microclimate is unlike the surrounding miles of farmland. In the springtime, you can view the famed Catawba rhododendrons, which are as abundant as you'll find in western North Carolina's Pisgah or Nantahala National Forests.
Staff Pick – Flower Hill Trail (0.5 mile)
"Rhododendrons! In Johnston County! Enough said."

– Heather Szaro, Farm Coordinator